John Waddel (b. unknown, Scotland; d. 25 November 1679, Magus Muir, Fife, Scotland)
In the aftermath following the battle of Bothwell Bridge, five men were convicted and sentenced for their alleged involvement in the assassination of Archbishop Sharp. More than likely, the five men were merely picked to pay for the act, even as there was no proof of their involvement. These men were Thomas Brown of Edinburgh, James Wood of Newmilns, Andrew Sword of Galloway, John Clyde of Kilbride, and our ancestor, John Waddel of New Monklands.
Gavin Main Waddell writes that "His only crime was that he was captured at the Battle of Bothwell Bridge and refused to deny the Covenant."1 John Waddel was hung at Magus Muir on the 25 November 1679, as was the fate of all five men captured.
Today, in a cornfield near Magus Muir, there lay a small gravesite, where there lie the bodies of these five men, including John.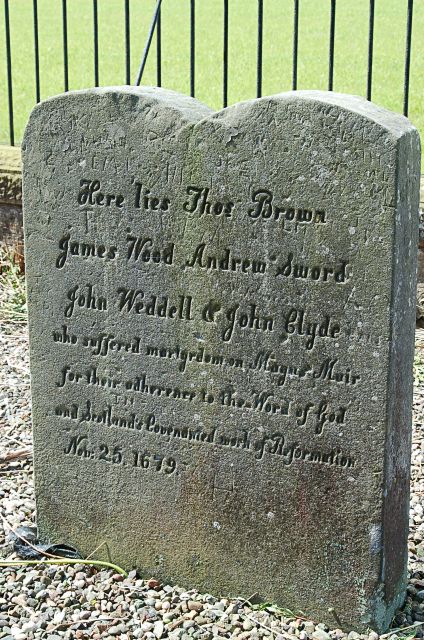 The eastern face of the Covenanter grave which reads:
Here lies Thomas Brown, James Wood, Andrew Sword, John Weddell and John Clyde who suffered martyrdom on Magus Muir for their adherence to the Word of God and Scotland's Covenanted work of Reformation; Nov 25, 1679.
The western face of the stone reads:
'Cause we at Bothwell did appear,
Perjurious oaths refused to swear;
'Cause we Christ's cause would not condemn,
We were sentence'd to death my men,
Who rag'd against us in such fury,
Our dead bodies they did not bury;
But upon poles did hing us high,
Triumph of Babel's victory.
Our lives we feared not to the death,
But constant prov'd to the last breath.
The 1862 publication, simply referred to as A Cloud of Witnesses, is a compilation of last accounts and testimonies of some of the martyrs of the Scottish Reformation. We are so privileged to have the final testimony of John Waddel. I have included a link to the full work and John's entire portion in Further Reading. However, to rightly give him due in the chronology of the Waddell story, I find it fit to include the opening portion here that is exceptional in its display of John's character, of humble servitude and perseverance in the faith. While we may not know much, if any, real account toward his life, we do see him in light of his death, and perhaps it more readily illuminates the identity of the man, John Waddel. Here follows the last testimony of John Waddel, upon the occasion of his sentence:
Men and Brethren, It may be thought by some, that the cause of my death by suffering, is but a thing indifferent in some respect; but the Lord knoweth that my intention is, and was, from the first day I appeared in open war, against all those that were fighting against Christ and his cause, from the thought and deep sense of my duty to appear in hazard of my life, and goods, and all I had in the world—to defend and maintain Jesus Christ and his cause. And now we are condemned as guilty of death, and held by them as rebellious, to appear for the interest of our Lord and Saviour Jesus Christ, and they have condemned him, to have no right to govern his church and ecclesiastical affairs, which we are bound by the word of God and covenants, to own and avow in spite of all that will say the contrary, without respect of persons. It is true, I am bound to maintain all lawful authority, as it is agreeable to his word; and to obey the king, as far as he maintains the church in her liberty, and no further on any accounts; we are also bound to maintain and own him in holding out foreign nations; but if he be against God, then we are bound to stand in defence of the church, in all that belongs to the true worship and fear of God, and to do our utmost to the bearing down defection and profanity, and all those things that are contrary to our solemn engagement in the National and Solemn League and Covenant; and as he hath bound us in his word, and commanded us to lay down our lives for his cause and interest, he hath also said, 'He that seeks to save his life shall lose it, and he that loseth his life for the gospel, shall save it.' And I have this to say, that I declare I am not worthy to receive the least honour of a testimony, because I am the least, and less than the least of all those that have appeared for his cause, at this time, or at any time have appeared for his cause and truth: for I am, as Jacob said, less than the least of all God's mercies; but I have this to say, to the commendation of free love and mercy that he hath made that as clear to me, as the sun shineth, that if I had yielded at that time, when I was called in question for him and his truths, that he should have disowned me, for doing that, in my greatest strait. And on the other hand, I was fast and sure, that the Lord would own me, if I owned him; for he says, 'He that contends with you, I will contend with him;' wherefore I have ground to lay hold upon the promises, yet not I, but the grace of God in me, and the love of him that died, and rose again from the dead in his own strength, and now lives for ever.
---
1 – Waddell, Gavin Main. "A Short History of the Waddells of Scotland," worldfamilies.net. Feb 2009.
Images (In order of appearance):
© Copyright Anne Burgess and licensed for reuse under Creative Commons.
© Copyright Jim Bain and licensed for reuse under Creative Commons. (Includes remaining three images)